Karate-do Introduction
Karate is a martial art that was originally created in Japan. The main idea of karate is battling and defending by using defensive and counteroffensive body movements including punches and kicks. The psychological and ethical characteristics of karate aim to advance and improve the student in general. The term "karate" is a mixture of two Chinese characters: "kara" (empty) and "te" (hand), thus karate means empty hand. The suffix "-do" is added to the word "karate" to indicate that karate as an overall way of life. An individual who practices karate is sometimes referred to as a karateka. The conventional karate-do is a difficult sport and it takes time and dedication to become a master in this martial art.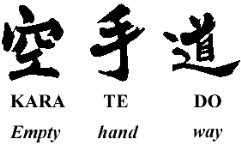 Three components of karate   
The five main karate styles are: Shotokan, Shito-ryu, Goju-ryu, Wado-ryu, and Kyokushin. Karate training is separated into three sections: Kihon, Kata, and Kumite.
Kihon means "basic techniques". These techniques are mostly attacking moves, blocking moves, stances, and other movements. The trainer demonstrates a certain move, which is then imitated by the student. It is vital to practice and repeat the basic fundamental movements because as a result, the student develops the right techniques.
Get Help With Your Essay
If you need assistance with writing your essay, our professional essay writing service is here to help!
Kata means "form". It is a sequence of certain movements displayed in a pattern that the student has to memorize. It represents a battle or a fight against an enemy or enemies. In karate training, every kata begins with a block and this proves that defense is the most significant aspect of karate. In karate, there are numerous katas as they help at shaping the body and mind. The katas are performed slowly with full strength and help at developing control of the entire body, mind, breathing, rhythm, and breathing. In order to perform the katas in the right way, they have to be repeated thoroughly and carefully with full relaxation and focus.
Kumite means "partner work". In karate, there should not be any opponents or enemies, only partners. Traditional kumite help advance karate students both mentally and physically with the help of their partners.
Karate ranks
In karate, different colored belts indicate the ranking and the skill level of a karate practitioner. Once a karate student has obtained a karate belt of a certain/rank, people can see your ranking and that you have dedicated your time getting to that level. Simply because somebody has a white belt tied to him/her, it doesn't mean that he/she is not experienced in karate, it means that the person is ready to thrive to gain the skill. There are nine belt colors in karate: white, orange, blue, red, black, yellow, green, purple, and brown. Not all karate schools/clubs use all of these colors and the arrangement of the belts/ranks differ from school to school. The role of an instructor is very important in karate and they have different behaviors. Some teachers easily hand out new belts without thinking and others are careful when choosing the student who deserves a higher rank.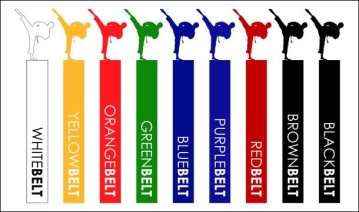 Karate belt colors vary from school to school. Some schools include the colors red and purple in their system, while others only have 7 colors. Some schools also use stripped belts with different colors. The order of the belt colors may vary, but most of the time, the white belt is for the beginner and the black belt is the highest ranked belt color. Three of the most common orders of belt colors are:
1. White, yellow, orange, green, blue, purple, red, brown, black.
2. White, red, yellow, orange, green, blue, purple, brown, black.
3. White, yellow, green, orange, red, blue, purple, brown, black.
To get to the next phase/belt, the student is required to dedicate his time into improving every day and trying his/her best. Generally, it takes anywhere from 8 to 18 months of training and practice to move to the next phase in karate. The more you practice, the faster you will get a new belt. Each of nine colors of belts in karate have meaning behind them.
Find out how UKEssays.com can help you!
Our academic experts are ready and waiting to assist with any writing project you may have. From simple essay plans, through to full dissertations, you can guarantee we have a service perfectly matched to your needs.
White Belt: The white belt is the symbol of purity. This makes sense because those who are just starting out in karate are innocent and do not know how much work and discipline is required in order to become a master in karate. This level introduces the basics and the first ideas about karate. This is the beginning of a path to mastery.
Yellow Belt: Once a student gets a yellow belt, it means that he/she is past the introductory level of karate and has basic understanding of the art and has the ability to do basic karate. The yellow belt represents energy. The student now has more control over their body's energy.
Orange Belt: The symbol of an orange belt is stability. Practicing karate includes basic punches, kicks, blocks, and postures. The basic skills gained from the first three belts will be necessary to progress in karate because all of the techniques learned in higher belts will be learned upon the basic skills.
Purple belt: Once a student gets a purple belt, it means that he/she has advanced from beginner to intermediate level. At this stage, students should be able to understand all basic strikes and blocks. They should also be comfortable with controlling and moving their body in order to do a certain strike/block.
Blue belt: A student who has a blue belt must learn to adapt to given situations.
Karate belt colors vary from school to school. Some schools include the colors red and purple in their system, while others only have 7 colors. Some schools also use stripped belts with different colors. The order of the belt colors may vary, but most of the time, the white belt is for the beginner and the black belt is the highest ranked belt color. Three of the most common orders of belt colors are: 1. White, yellow, orange, green, blue, purple, red, brown, black 2. White, red, yellow, orange, green, blue, purple, brown, black 3. White, yellow, green, orange, red, blue, purple, brown, black To get to the next phase/belt, the student is required to dedicate his time into improving every day and trying his/her best. Generally, it takes anywhere from 8 to 18 months of training and practice to move to the next phase in karate. The more you practice, the faster you will get a new belt. Each of nine colors of belts in karate have meaning behind them. White Belt The white belt is the symbol of purity. This makes sense because those who are just starting out in karate are innocent and do not know how much work and discipline is required in order to become a master in karate. This level introduces the basics and the first ideas about karate. This is the beginning of a path to mastery. Yellow Belt Once a student gets a yellow belt, it means that he/she is past the introductory level of karate and has basic understanding of the art and has the ability to do basic karate. The yellow belt represents energy. The student now has more control over their body's energy. Orange Belt The symbol of an orange belt is stability. Practicing karate includes basic punches, kicks, blocks, and postures. The basic skills gained from the first three belts will be necessary to progress in karate because all of the techniques learned in higher belts will be learned upon the basic skills. Purple belt Once a student gets a purple belt, it means that he/she has advanced from beginner to intermediat